Tag: Internet VOIP , Planet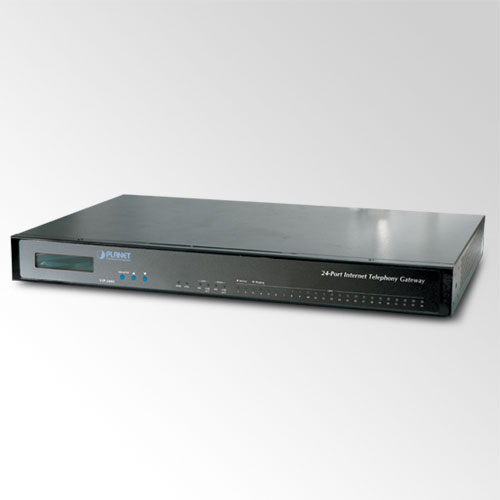 Planet
Planet VIP-2480FS
24-Port VoIP Gateway (24*FXS) - SIP/H323 Dual Protocol

With years of Internet telephony and router manufacturing experiences, PLANET proudly introduces the latest member of the PLANET high-density port VoIP gateway family: the VIP-2480 / VIP-2480FO / VIP-2480FS.

The PLANET VIP-2480 series VoIP Gateway are dual standard (SIP and H.323) compliant residential gateways that provide a total solution for integrating voice-data network and the Public Switched Telephone Network (PSTN). The VIP-2480 series not only provide high-quality voice communications but also offer secure, reliable Internet sharing capabilities for daily voice and Internet communications.

With advanced DSP processor (TI) and cutting-edge VoIP technology, the PLANET VIP-2480 series are capable of handling both SIP and the H.323 calls. With up to 24 registrations to the SIP proxy or H.323 Gatekeeper and allows 24 lines analog voice and fax communication over a traditional data communications/data networking digital Internet, the VIP-2480 series are able to make calls to either H.323 or SIP voice communication environment. The VIP-2480 series are equipped with a Ethernet switch and built-in NAT router function that provides Internet access using only one IP address; with these features, users can now enjoy high-quality voice calls and secure Internet access without interfering with routine activities.

Meanwhile, the PLANET VIP-2480 series are designed in comfort and ease-of-use for customers. The VIP-2480 series not only inherit traditions of quality voice communications and real-time fax data over IP networks but also eliminate the human resource in VoIP network deployment. With optimized H.323/SIP architecture, the PLANET VIP-2480 series are ideal choices for P2P voice chat, ITSP cost-saving solution, as well as providing network-converting feature to translate the packet network into traditional PBX system.

With built-in PPPoE/DHCP/DDNS clients, up to 24 concurrent connections can be offered in VIP-2480 series, therefore voice communications can be established anywhere around the world. The PLANET VIP-2480 series come with intuitive user-friendly yet powerful management interface (web/telnet/console) that can dramatically reduce IT personnel resource and complete VoIP deployment in a short time. With the remote management capability provided, the VoIP administrators can monitor machine/network status, or proceeds maintenance/trouble-shooting service via Internet browser or telnet session. Besides, the VIP-2480 series provide voice channels status display and optimized packet voice streaming over managed and public (Internet) IP networks.

Key Features
• Network Features
–Network Address Translation (NAT)
NAT allows multiple PCs to connect to an Internet Service Provider (ISP) using a single Internet access account.

–Point-to-Point Protocol over Ethernet (PPPoE) Client Support:
If you are a DSL user, the router has a built-in PPPoE client for establishing a DSL link connection with the ISP. There is no need to install a further PPPoE driver on your computers.

–Smart QoS
The smart QoS provides stable voice quality while users access to Internet from private LAN at the same time. This device would start suppressing throughput automatically when VoIP call proceed and keep full speed access when there is no VoIP traffic.

–DDNS(Dynamic Domain Name Server)
DDNS is a service that maps Internet domain names to IP addresses. It allows you to provide Internet users with a domain name (instead of an IP Address) to access your Virtual Servers.

–Virtual Server
Remote Users can access services such as the Web or FTP at your local site via public IP addresses and can be automatically redirected to local servers configured with private IP addresses.

• VoIP Features
–H.323 / SIP dual mode communication
–SIP 2.0 (RFC3261), H.323v4 compliant
–Peer-to-Peer / H.323 GK / SIP proxy calls
–PSTN lifeline for emergency calls (VIP-2480 model)
–Voice codec support: G.711(A-law / u-law), G.729 AB, G.723 (6.3 Kbps / 5.3Kbps)
–Voice processing: Voice Active Detection, DTMF detection, G.165/G.168 compliant echo canceller, silence detection, FAX (T.38 / T.30) Mode Option
–Built in adaptive buffer that helps to smooth out the variations in delay (jitter) for voice traffic
–Voice channels status display: This function display each port status likes as on-hook, off-hook, calling number called number, talk duration, codec
[BACK]

Tag: Internet VOIP , Planet