Tag: Antenna Sectoral , Hyperlink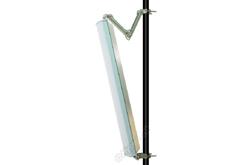 Hyperlink
Hyperlink HG2420P-120
Antenna Sectoral 20 dbi 120 degree 2,4 Ghz
·          Superior performance
·          All weather operation
·          120° beam-width
·          20° Down-Tilt Mounting Bracket
·          Includes Mast Mounting Hardware
·          2.4 GHz ISM Band
·          IEEE 802.11b, 802.11g Wireless LAN & IEEE 802.11n (Pre-N, Draft-N, MIMO) Applications
·          Bluetooth® & Public Wireless Hotspot
·          WiFi & Wireless Video Systems
·          Wireless Internet Provider "cell" sites
The HyperGain® HG2420P-120 Sector Panel WiFi Antenna combines very high gain with a wide 120° beam-width. It is a professional quality "cell site" antenna designed primarily for service providers in the 2.4GHz ISM band. Applications include IEEE 802.11b, 802.11g and 802.11n wireless LAN systems.
This antenna features a heavy-duty plastic radome for all-weather operation. The mounting system adjusts from 0 to 20 degrees down-tilt.
Ideal for Wireless Internet "Cell" Sites
This antenna is an ideal choice for Wireless Internet Provider "cell" sites since the cell size can be easily determined by adjusting the down-tilt angle. Horizontal coverage is a full 120 degrees, and side-radiation is minimized by the heavy-duty aluminum reflector.
Electrical Specifications
| | |
| --- | --- |
| Frequency | 2400-2500 MHz |
| Gain | 20 dBi |
| Horizontal Beam Width | 120 degrees |
| Vertical Beam Width | +/- 5° |
| Impedance | 50 Ohm |
| Max. Input Power | 250 Watts |
| VSWR | < 1.3:1 avg. |
| Connector | N Female |
| Lightning Protection | DC Short |
Mechanical Specifications
Weight

12 lbs. (5.44 Kg)

Dimensions

39 x 9 x 2.5 inches
(99 x 22.9 x 6.4 cm)

Radome Material

UV-Inhibited Polymer

Reflector Material

Aluminum

Operating Temperature

-40° C to to 85° C 
(-40° F to 185° F)

Mounting

2 inch (5 cm) O.D. pipe max.

Polarization

Vertical

Downtilt (mech)

0 to 20 degrees (adjustable)

RoHS Compliant

Yes
Wind Loading Data
Wind Loading

Front Surface

Side Surface

Area

2.43 sq. ft.
(.23 sq. meters)

0.68
(.06 sq. meters)

@ 100 MPH (161 KPH)

79 lbs. (35.8 Kg)

23 lbs.(10.4 Kg)
RF Antenna Gain Patterns
[BACK]

Tag: Antenna Sectoral , Hyperlink