Tag: wireless router , TP-Link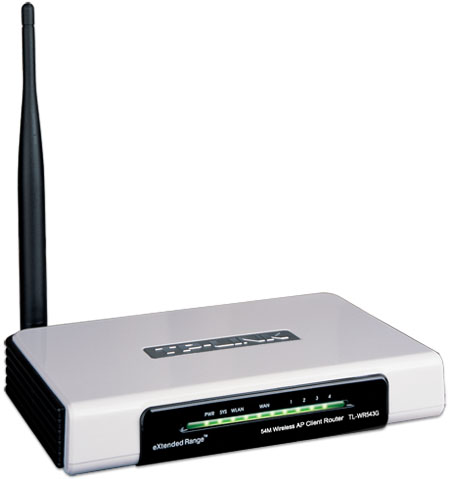 TP-Link
Tp-Link TL-WR543G
54Mbps Wireless AP Client Router with eXtended RangeTM, supports WISP, L2TP, Port-based QoS, with detachable Antenna
TL-WR543G


Highlights:


    Establish a 54Mbps wireless connection, sharing Internet access, downloading file or playing games
    Supports WISP client router mode

    WDS wireless bridge provides seamless bridge to expand wireless network

    External detachable antennas allow for better alignment and stronger antenna upgrades


What This Product Does
54Mbps Wireless AP/Client Router TL-WR543G is dedicated to Small Office / Home Office (SOHO) allowing you to create a better wireless connection than ever, sharing Internet Access, online-gaming or video streaming. Also, TL-WR543G supports WDS wireless bridge offering seamless bridging to expand your network coverage, making it convenient for you to pick up the signal during different rooms or offices. Specially, it features AP Client Router Mode, which supports WISP connection by PPPOE, Dynamic or Static IP, making the wired computer sharing the local network.

4X Range–eXtended Range Technology
TL-WR543G complies with the IEEE 802.11g/b standards and adopts 2x to 3x eXtended Range WLAN transmission technology so that transmission distance is 2 -3 times that of traditional 11g/b solutions, up to 855.36m tested in China. That is to say, transmission range is extended to 4-9 times, which could effectively improve wireless performance.

Multiple Working Modes
As well as conventional router, TL-WR543G offers AP Router Mode, providing PPPOE, Dynamic or Static IP connection, etc, with built-in NAT and DHCP server. Besides AP Router Mode, TL-WR543G features AP Client Mode so that the local computer can access internet with WISP connection. Therefore, various working mode can satisfy different areas for wireless performance.

WPA / WPA2 Encryptions
As for the security of WI-FI connection, WEP encryption has been no longer the strongest and safest guards for outside threats. TL-WR543G provides WPA/WPA2 encryptions (Both Personal and Enterprises) that are created by the WI-FI Alliance industry group, preventing your network from outside intrusions efficiently.

Detachable Antenna
TL-WR543G offers 5dBi external antenna that can be rotated and adjusted in different directions to fit various operation environments, and can bring better performance than the internal antenna. For even more demanding applications, the detachable antenna can be replaced with diverse antennas to show even greater flexibility and wider wireless coverage.


54Mbps transmission rates, better for wireless network surfing or downloading
Adopts 2x to 3x eXtended range technology for wider wireless coverage

WDS wireless bridge provides seamless bridging to expand your wireless network

Working at the AP Client Mode that supports WISP connection

QoS assures the optimum utilization of bandwidth for fear of bandwidth abuse

Supports PPPOE, Dynamic IP, Static IP, L2TP, PPTP and BigPond Cable internet access

Built-in firewall supporting IP/MAC address and domain filtering to control certain network access

Easy Setup Assistant provides quick & hassle free installation

Compatible with all the 802.11b/g products

External detachable antennas allow for better alignment and stronger antenna upgrades


[BACK]

Tag: wireless router , TP-Link